Little Island
"What was in my mind was to build something for the people of New York and for anyone who visits—a space that on first sight was dazzling, and upon use made people happy." — Barry Diller
Little Island is a 2.4-acre a new floating public park in Hudson River Park on the West side of Manhattan. it's located in the Hudson River off the West Side Highway with entrances at West 13th and 14th Streets.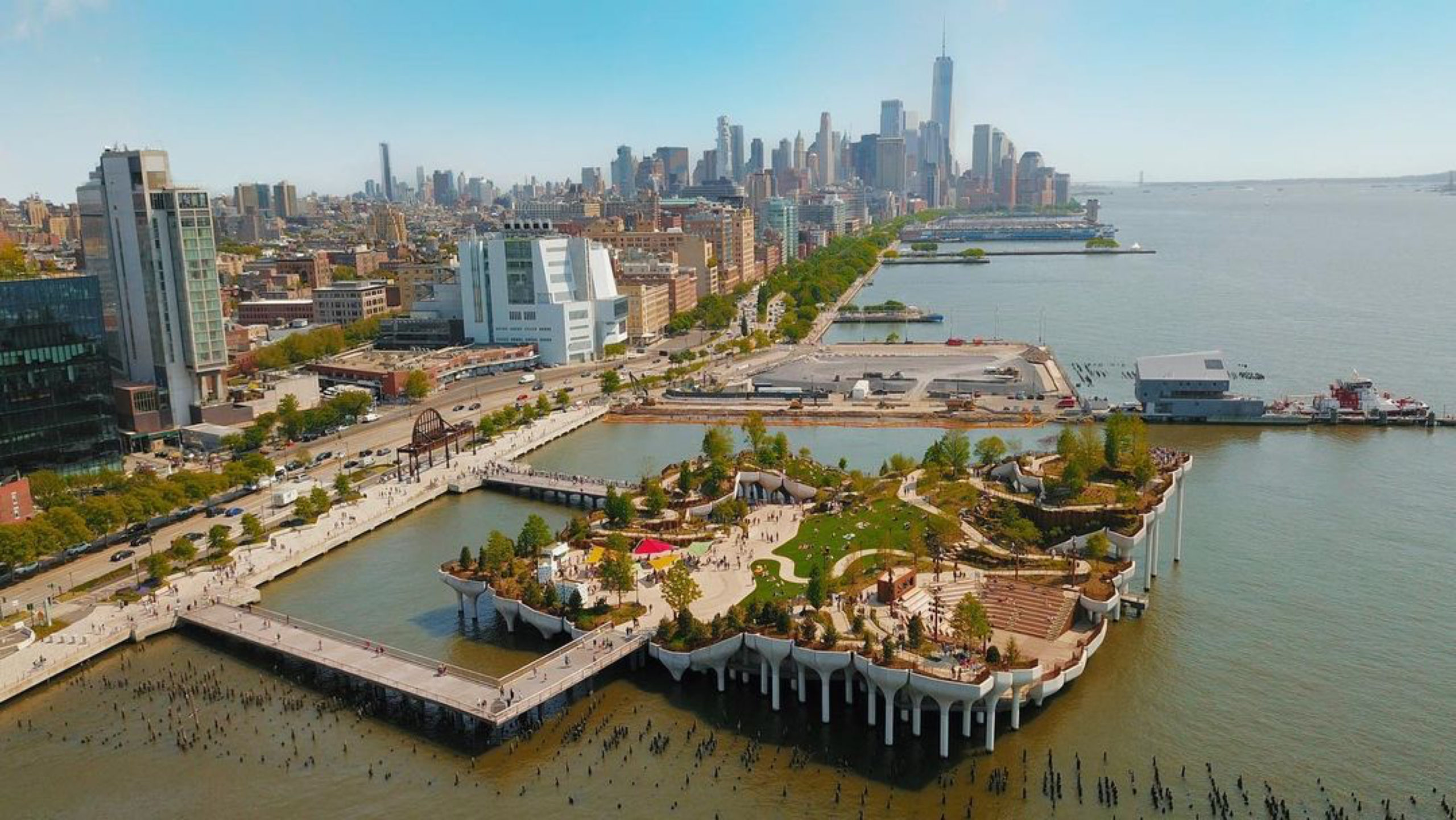 History
Rising from the remnants of Pier 54, Little Island sits on a site that has played a pivotal role in the story of the Hudson River and its surrounding communities. Every visit to Little Island is a reminder of the dynamic evolution of New York City's waterfront.
In 2013, Barry Diller of the Diller-von Furstenberg Family Foundation, in partnership with Hudson River Park Trust leadership, embarked on the unique opportunity to envision a solution for the repair and reactivation of Pier 54, recently damaged by Hurricane Sandy. Diller chose to reimagine an entirely new type of public space for New York, one that would create an immersive experience with nature and art.
Structural Design
Heatherwick Studio explored the idea of designing a new pier that could draw from the remaining wooden piles from Pier 54.
"My studio and I became interested in the remains of the old piers on the west side of Manhattan, where their top surfaces had long gone, leaving only hundreds of ancient structural wooden piles sticking out of the river."
Landscape Design
MNLA's landscape design was conceived as a leaf floating on water. This space could be both visually surprising and inspiring for New York City.
"The pier's landscape will be a sensory delight in all seasons and times of the day."

Park Rules
To ensure that everyone can experience Little Island as a safe, enjoyable, and beautiful park, we ask that visitors refrain from the following activities:
Walking in plant beds

Picking flowers or plants

Bringing in outside alcohol

Smoking

Riding or bringing bicycles

Using skateboards, skates, and scooters

Fishing

Playing amplified sound

Solicitation

Commercial activity

Littering

Obstructing entrances or paths

Bringing dogs, except for service dogs

Flying drones
For a complete list of Hudson River Park rules, click here.